What about the Spring Creek Utility District?
---
The Spring Creek Utility District (the "District") is a municipal utility district created by HB 1758 (62nd Legislature, 1971). The District operates under provisions of Chapters 49 and 54 of the Texas Water Code, as amended, and other general statutes applicable to municipal utility districts. The District is subject to the continuing supervision of the Texas Commission on Environmental Quality (the "Commission"). The District is located wholly within the exclusive extraterritorial jurisdiction of the City of Houston (the "City") and within the boundaries of the Conroe Independent School District
The District is empowered, among other things, to purchase, construct, operate and maintain all works, improvements, facilities and plants necessary for the supply and distribution of water, the collection, transportation and treatment of wastewater as well as the control and diversion of storm water. The District may issue bonds and other forms of indebtedness to purchase or construct such facilities. The District may also provide solid waste disposal and collection services. The District is also empowered to establish, operate, and maintain fire-fighting facilities, independently or with one or more conservation and reclamation districts after approval from the City, the Commission and the voters of the District. The District is authorized by statute to develop and finance parks and recreational facilities. Additionally, the District may develop and finance roads, subject to certain limitations and the granting of road powers by the Commission.
The Commission exercises continuing supervisory jurisdiction over the District. Discharge of treated wastewater into Texas waters is also subject to the regulatory authority of the Commission and the United States Environmental Protection Agency ("EPA"). Construction of all water, wastewater and storm drainage facilities is subject to the regulatory authority of Montgomery County, the City of Houston, the Commission, the EPA and, in part, by Montgomery County Drainage District No.6 ("DD6")
Description and Location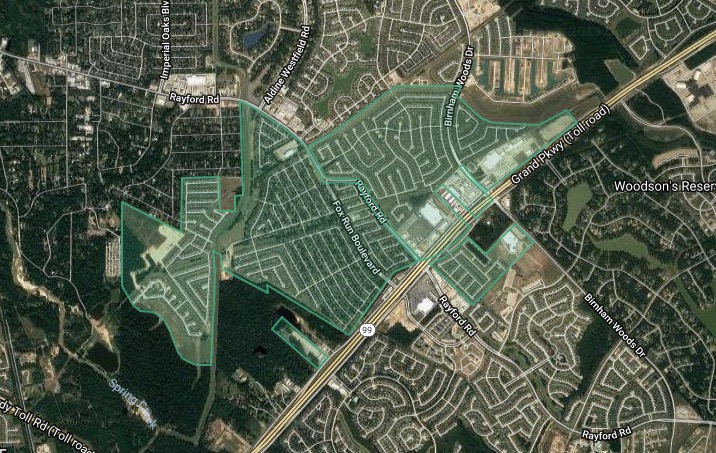 The District, which contains approximately 1,049 acres of land, is located in the southern portion of Montgomery County approximately 25 miles north of the downtown business area of the City and 13 miles south of the City of Conroe, the largest city and county seat of Montgomery County. The District is bisected by Rayford Road and bound on the south-southeast by Riley-Fuzzel Road (now the Grand Parkway). There are two toll road metered exits/entrances within the District. Access to Houston's central business district is provided via Rayford Road west three miles to IH 45 and the Hardy Toll Road two miles to the west.
The District serves five (5) residential subdivisions: Forest Village, Fox Run, Legends Run, Lockeridge Farms and Spring Creek Pines as well a commercial developments along the Grand Parkway and Rayford Road (primarily Rayford Crossing at the intersection with Rayford Road and Birnham Woods Marketplace east of Birnham Woods drive).